To our loyal customers and friends – following the government's lockdown of non-essential services Wombat Hill House will be looking a little different for a while.⠀
⠀
We still want to be able to supply you with delicious sourdough loaves, baguettes, pastries, and other takeaways. Now we'll be adding to the offering so you can also pick up your local staples as well and grab an excellent coffee at the same time.⠀
What can you shop for?
We've been growing beautiful pesticide-free vegetables, herbs, and flowers for Lake House our Two Chef's Hat restaurant for almost 2 years. With the mandated closure of our restaurant – we have a surplus of nutrient-rich vegetables available to purchase at Wombat.
A selection of great slow-fermented (real) sourdough, pastries, and doughnuts from our bake house at Dairy Flat Farm will be freshly baked and delivered to Wombat each morning we are open. Hurry in for these (and your coffee to takeaway). A takeaway menu of Wombat favourites including our much-loved sourdough based pizzas, burgers, toasties, salads and more, will also be available.
There will also be pantry staples – quality flour, milk, eggs, cheese, olives and more from our trusted suppliers. Boxes of local mineral water and some essentials such as tissues and toilet paper will also be available. Limited items will also include our own Daylesford Pure hand sanitiser.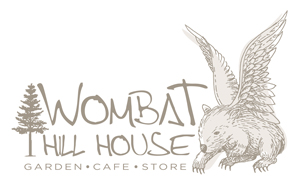 Open 9am -2:30pm | Friday, Saturday, Sunday & Monday
Pantry Staples & Takeaway
Daily sourdough, just picked vegetables & more
ADDRESS
Scenic Drive – Enter off Central Springs Road, Daylesford 3460 Victoria, Australia
TELEPHONE
03 4373 0099
WEBSITE
SOCIALS
Located in DAYLESFORD –
Iconic Victorian chef and restaurateur Alla Wolf-Tasker has expanded her portfolio with the opening of her "cafe in the gardens", Wombat Hill House. " A beautiful vegetable garden, bar, indoor and outdoor seating, cocktails, zingy salads, daily plates, pizzas and (some say) the best fish n chips in town.
Who we are…
Enchanting cafe, store & kitchen garden within the Wombat Hill Botanic Gardens
What we do…
Breakfast, lunch & picnic provisions plus the odd private party.
We're best known for…
Beautiful, rambling country gardens and delicious coffee!
Our signature product is…
Tasting plate of delicious goodies to eat in the gardens.
Why you'll like us…
Fresh, simple, local food in pretty surrounds.
Some background about our business…
A converted caretakers cottage nestled high on Wombat Hill amongst the Botanic Gardens; Wombat Hill House is decorated with eclectic furnishings and a large mural of the "enchanted forest" on one wall. The cafe has several areas including indoor seating by the open fire, the sun drenched pergola / bar and the pretty kitchen garden.
Like this? Try…
Our big sister Lake House – just down the hill on the lake – it's a great spot for a special lunch or dinner.
Our nearest neighbours are…
Wine & the Country just down the hill on Main Street – pop in to buy some great wine.
Awards & Accolades:
3 stars in The Age Cheap Eats Guide.