Seasons are about the anticipation and the annual rediscovery of pleasures available for a limited time. Even if you are not a gardener as well as a cook, thinking about food from the perspective of planting and the rhythms of the seasons changes how you cook. There is real pleasure to be had in that sense of being at one with the eternal order of things.
Alla Wolf Tasker
What's Growing, Cooking and Drinking Well
Our pristine beautiful region with its fertile volcanic soil, abundant crystal clear mineral springs and strongly felt seasons, provides the perfect canvas for small artisan farms. Heirloom 'lost' fruit and vegetable varieties, rare breed livestock and the pursuit of sustainable best practices, biodynamics and organics are strong features in this landscape.
A respect for our environment runs deep in our veins. The viability of future harvests in years to come, remains as important as what we are picking today.
Shopping, eating and drinking…
Follow your stomach on a shopping expedition around the region. Watch out for a-frames and honour boxes down our country lanes selling everything from berries, chestnuts, to potatoes, honey, free range eggs and all manner of seasonal produce.
Produce stores offer you locally pressed olive oil, smallgoods, preserves, yoghurt, cheese and locally foraged mushrooms.
Fresh trout, locally farmed Murray Cod, ethically raised pork, lamb and beef feature on the local tables of award winning, dedicated chefs.
Annie Smithers Chef/Patron of du Fermier, Trentham talks about what she's growing and cooking this Autumn.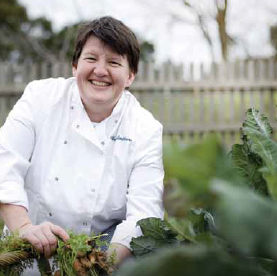 Autumn Pickling
The glorious productive summer run we've had since January is over. The beans are long gone and today we picked the very last of the tomatoes (2 kilograms of red ones and a big 10-kilogram box for pickling. There is always something sad about each crop finishing, but this is really waving goodbye to the bountiful times and gritting our teeth at the approach of winter. It must sound like I don't like winter, but actually the opposite is true. I love the cold weather and hate the heat, but since starting the garden I've learnt to look at the seasons in a different light, and know that there could be some lean times ahead.
Click here for Annie Smithers Green Tomato Pickle recipe.
To find out about Annie's Garden Tour & Morning Tea event during the Harvest Week Festival, click here.