Warialda Wins.
We're guessing there might be one or two sore heads amongst our DMP members this morning after attending the ABC delicious. Produce Awards 2014 Awards in Sydney last night.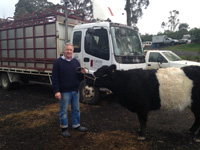 Warialda Belted Galloway, Sher Wagyu, McIvor Pork, as well as our Chair Alla Wolf Tasker, celebrated with some of Australia's most renowned chefs and food industry leaders, and the nation's best producers, growers and harvesters.
The awards, judged by a panel of eminent chefs and food suppliers, are designed to celebrate the country's most outstanding ingredients, inspiring small and sustainable producers, farmers' markets, innovators, regional chefs and more.
We're delighted to announce that Daylesford Macedon Produce members Warialda Beef won Best Product in the the prestigious 'From the Paddock' award for its Belted Galloway aged beef, grown, processed and sold by the Snaith family from their property at Clonbinane, Victoria.  Their award was shared with Adelaide small-goods producer San Jose – for its Wagyu bresaola.
It's the equivalent of a food Oscar.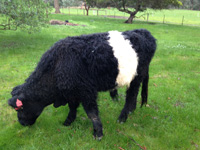 The Warialda Belted Galloway brand represents beef from slow-ageing, mature cattle dry aged, butchered to their own specifications and sold directly.
"They're not mainstream  cattle," Allen Snaith told The Australian "so if you try to sell them in the conventional way, you get a caning."
"Moving from growers to marketers has been hard work", says Lizette Snaith, who now sells nearly 800 kg of prime beef direct to consumers and chefs each week, but the rewards are slowly coming for this unique beef and its dedicated producers.  "The hard work has certainly feels worth it tonight," she grinned.
Now in their ninth year, the delicious. Produce Awards continue to highlight independent producers, thanks to readers who nominate their local heroes, and a panel of national chef judges (pictured, from left: Christine Manfield, Maggie Beer, Matt Moran, Alla Wolf-Tasker, Guillaume Brahimi and Shannon Bennett) and industry experts.  "All the judges love being part of the Awards because we discover incredible new ingredients like this one," said judge (and DMP Chair) Alla Wolf-Tasker.
Several other DMP members were highly commended by the judges as finalists in their categories.  Sher Wagyu, for their Blue label full blood Wagyu; Jonai Farms and Meatsmiths for their free-range pork belly and farmstead bacon; and Angelica farm for their organic garlic.
delicious. editor Danielle Oppermann said: "The delicious. Produce Awards are uniquely positioned to shine a spotlight on the best of the best in these areas. We're proud to be helping small producers succeed through bringing them to the attention of the restaurant industry and consumers."
The complete story and full list of winners and medallists will appear in the July issue of delicious. magazine, on sale Thursday July 17, 2014.
Results: .delicious Produce Awards
WRITTEN BY KATE PARRY