"Local wags reckon there are three seasons in central Victoria: February, March and Winter…"
So begins Gaye Leago's funny, touching account of the trials and tribulations of veggie growing here in the Daylesford Macedon region, Growing Concerns, our winner of the #dmpharvest The Lake House Food Writing Award 2014.
Gaye's story was picked from a strong field of contenders with judges John Lethlean of The Australian and The Age Good Food Guide's Editor, Janne Apelgren. Overall, the submissions were of a very high standard but Gaye's sense of place and evocative language really brought the subject to life. "…It made me laugh, made me hungry, and represented the joy, mystery and occasional heartbreak of kitchen garden." Said Aprelgren. For John it was its "sense of humour and economy of language… punchy, personal style… and an impressive mix of both the colloquial and the erudite" that made it stand out as the winner.
The prize for the #dmpharvest The Lake House Food Writing Award 2014 was $500 and to be published in The Australian. The story appeared in Weekend Australian on June 28.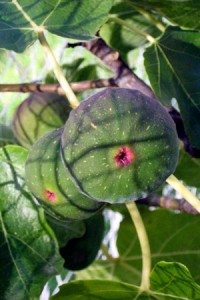 LOCAL wags reckon there are three seasons in central Victoria: February, March and winter. Newcomers whinge there are four seasons, all of them winter. From these observations you rightly may conclude we have a long growing season followed by a short, hot summer.
In such a climate growing produce has its challenges, especially if you rely on rainfall for your water supply and on the long-range weather forecast for your plantings. Last spring, after an early budburst, frost wiped out much of the district's grape crop. Following on its heels, a heatwave ruined vegetable and stone fruit harvests.
But while commiserating on the vicissitudes of farming, we can claim a few small triumphs. When the torrid summer drew to a close, our little nashi pear yielded more fruit than it had in years, and the Ruby Red Rhubarb flourished. Our thoughts turned to a rhubarb and nashi crumble. Daubed with creamy custard, it's known at our place as Bliss in a Bowl.
The early autumn break delivered a few days' steady drenching, topping up tanks and sending moisture deep into soil. In pine plantations, orange mushrooms pushed through the needles and slippery jacks raised their viscid caps to greet the warmth.
Lettuce thrives in the damp, still warm earth. Whenever frost threatens, we rush to cover it because an earthy mushroom risotto demands a leaf salad. We'll also keep lettuce soup in store for the cold months ahead. A warming green calmative, it can cure winter blues as surely as sunshine.
Our black russian tomatoes are only now turning their final eponymous shade. Last week, after strong winds dismantled supports, we had to restake them. Those windfalls that were unmolested by millipedes quickly ripened in the kitchen's warmth. Their flavour is sweet and smoky, their dark flesh succulent.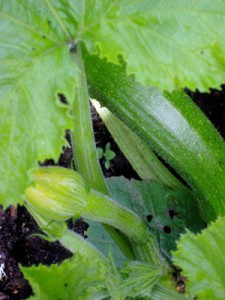 Yellow zucchini flowers lengthen and swell. Anxious that the blooms were only those of unproductive males, we anticipated having to sex the female flowers ourselves (excuse me while I fan my face). Luckily, the bees have spared us that.
If asked, 'What do you dream about?' I'd answer: "Roasted zucchini stuffed with spiced lamb and pine nuts and sauced with black russian coulis." It's a delicious, autumnal, dream-inducing dish.
Protected from ringtail predation, the brown figs darken. Some we'll eat fresh; others will be halved, drizzled with honey, grilled and served with yoghurt and dry-roasted walnuts.
Potatoes grow in a small bed near the compost. Soon, we'll dig for Dutch creams to be mashed and teamed with snags on a bed of lentils, and a rich leek and kale salad. A few desirees sprouted from the runts of last year's crop. These we'll wedge-cut, oven-bake and pair with pan-fried trout.
Ahead of newly planted spinach are frosts, perhaps even snow, and southerlies bearing a hint of penguin poo. Keeping it company are those decorative diehards: black kale, rainbow chard and snow peas. With casserole or roast, stir-fry or grill, these valiant veggies make any dish sing.
In a sunny spot under the eaves, crowds of blossom on the meyer lemon promise Lemon Delicious puds with plenty left to bottle. And there'll be spicy veg tagines, too, with preserved lemon and almond couscous, the next best thing to shelling out for Tangier.
Last week, for instance, we watched the first full moon after equinox arise in spectacular fashion.
In the wake of the moon's alignment with Mars, astrologers predict great conflict. To their portentous pronouncements I add a few more: Fecundity erupts from the earth. The black russians are coming. Fig and lemon trees shall bend with their bounty. The sexed zucchini shall yield in profusion. From decay new life shall spring (but only if it rains, we can cover before a frost and we keep the possums off).