Located in DAYLESFORD –
Takeaway Menu now available for pick up and delivery.
Since 1857, many locals and visitors have walked through our doors and through eating, drinking and laughing the night away, they have created a special magic that gives our pub its unique character.
As the oldest pub in Daylesford, the Farmers Arms has become an important pillar in the local community and an iconic destination for visitors who want to experience the true charm of Daylesford hospitality. We've been a gathering place for locals to come together in times of need and in times of great celebration. Our regulars welcome those from out-of-town with open arms to share a pint, break bread and regale a story or two.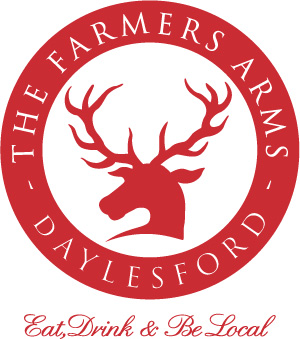 ADDRESS
1 East Street, Daylesford, Victoria, Australia, 3460
TELEPHONE
03 5348 2091
WEBSITE
EMAIL
belocal@farmersarmsdaylesford.com.au
SOCIAL MEDIA
OPENING HOURS
Open from 12 noon – 11pm
7 days a week with lunch from 12-3pm
Dinner orders from 5:30 – 9pm
CONTACT
Mitch Duncan