2017 Instagram Competition Winner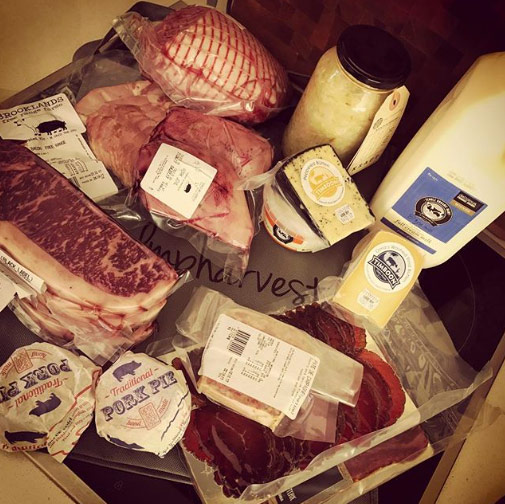 The winner of the #dmpharvest 2017 Instagram competition is @petitepickings. We loved your photo showcasing your bountiful selection of local produce! It really captured the spirit of the #dmpharvest Festival!
"We had a lovely day at #dmpharvest today, sampling all the amazing local producers, and took away a few things to try at home"
The Competition:
Visiting us during #dmpharvest? Post your favourite pictures from the festival on Instagram and use the #dmpharvest hashtag.
All images under #dmpharvest taken during the 2017 festival will be judged in the week commencing July 5th, 2017 by the DMP Harvest Committee.
First prize will be allocated to the image judged as best capturing the spirit of the DMP Harvest Festival.
All decisions are final and the winner will be announced and promoted via dmproduce.com.au and @dmpharvest on Wednesday 12th July, 2017.
TERMS AND CONDITIONS
1 1. These Terms and Conditions govern the Competition. All other information provided prior to entering the Competition, including any instructions on how to enter the Competition, form part of these Terms and Conditions. Participation in this Competition is deemed acceptance of these Terms and Conditions. Any entry not complying with these Terms and Conditions is invalid.
HOW TO ENTER:
To enter, eligible individuals must;
Follow DMP Harvest Festival official Instagram channel at www.instagram.com/dmpharvest. For the avoidance of doubt, the entrant must be following @dmpharvest on Instagram at the time of judging
b. Post a photo of the DMP Harvest Festival 2017 on the entrants own Instagram account
c. Tag the photo with the hashtags #dmpharvest and #dmproduce All three of these tasks will constitute one entry (an 'Entry').
Entry is only open to attendees with a valid Instagram account. Employees (and their immediate families) of Daylesford Macedon Produce, participating retailers and agencies associated with this Competition are ineligible to enter. Immediate family means any of the following: spouse, ex-spouse, de-facto spouse, child or step-child (whether natural or by adoption), parent, step-parent, grandparent, step-grandparent, uncle, aunt, niece, nephew, brother, sister, step-brother, step-sister or 1st cousin.
5. The Promoter reserves the right, at any time, to verify the validity of entries and entrants and to disqualify any entrant who submits an entry that is not in accordance with these Terms and Conditions or who tampers with the entry process. Errors and omissions will be accepted at the Promoter's discretion. Failure by the Promoter to enforce any of its rights at any stage does not constitute a waiver of those rights. Incomplete or indecipherable entries will be deemed invalid.
6. Multiple entries are accepted as long as the entrant has met all the entry criteria on each submission
7. The Entrant acknowledges and agrees that his or her Entry will not be obscene, defamatory, libelous, threatening, harassing, hateful, racially or ethnically offensive, or encouraging of conduct that would be considered a criminal offence, gives rise to civil liability, or violate any law.
8. The Entrant confirms and warrants that they have full power and authority to enter into this agreement and hereby indemnifies the Promoter from and against any and all costs and damages incurred as a result of any breach of these Terms and Conditions.
How to Win
9. The Competition commences at 9am AEST on Friday 16th June 2017 and closes at 6pm AEST on Sunday 25th June 2017. (the "Competition Period"). Final Entries must be uploaded and tagged before 5pm on Sunday 2nd July 2017.
10. At the conclusion of the Competition Period, one (1) Entry will be selected as a Major Prize winner of the Competition by a panel appointed by Daylesford Macedon Produce (the "Winner"), at DMP's sole discretion. Each Entry will be judged on creative merit. This is a competition of skill and chance plays no part in the determination of the Winner.
11. The panel's decision is final and binding upon all entrants and no correspondence will be entered into. Entrants who are not winners will not receive any notification at all. The Winner shall be notified via an Instagram post on their winning entry, followed by a confirmation email as well as our website dmproduce.com.au; and on twitter via @dmpharvest and @wolfinkitchen.
2015 Instagram Competition Winners
FIRST PLACE: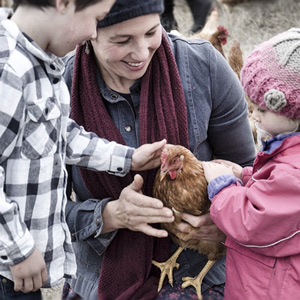 And the winner of the #dmpharvest 2015 Instagram competition is @thecountryphiles for this lovely image taken at Limestone Farm's Barnyard Brunch with Rosa Mitchell
@thecountryphiles "The Joy of Chickens. Thanks @real_eggs for opening your farm gate to us all today. It's such a gift to be reconnected to where healthy real food comes from and the farmers who produce it. #fabfolks #farmingfamilies #dmpharvest @sidoniahillsbeef #outotown #outotowners #upmyway #upthehighway #forestbound"
Prize: KitchenAid Diamond Blender – Retail value $279
SECOND PLACE: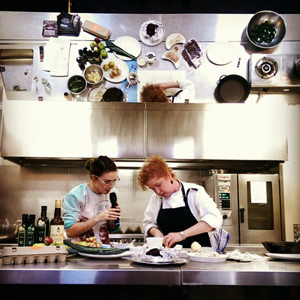 In second place is @michelledunnphotography for her image of chef @nickyriemer during her cooking demonstration with @aliceinframes at Producer's Day during #dmpharvest Festival.
@michelledunnphotography "Having the best day off at The Lake House for #dmpharvest. Full of good food inspiration. #localproduce #Daylesford #harvestfestival @nickyriemer @aliceinframes"
Prize: KitchenAid Electric Kettle – Retail value $129